Do you know a girly girl who is obsessed with pink and pretty things, but you're not sure what to buy her for Christmas, Valentine's Day, or any holiday? Or maybe you're looking for yourself–like moi? If these things are true, this guide is here for you!
I scoured the Internet, and found these 13 awesome products that any girl is sure to love!
*All images are copyright of their companies/owners, and are used under Fair Use. I am NOT endorsed by or affiliated with these companies/individuals.*
Girly Girl Gift Guide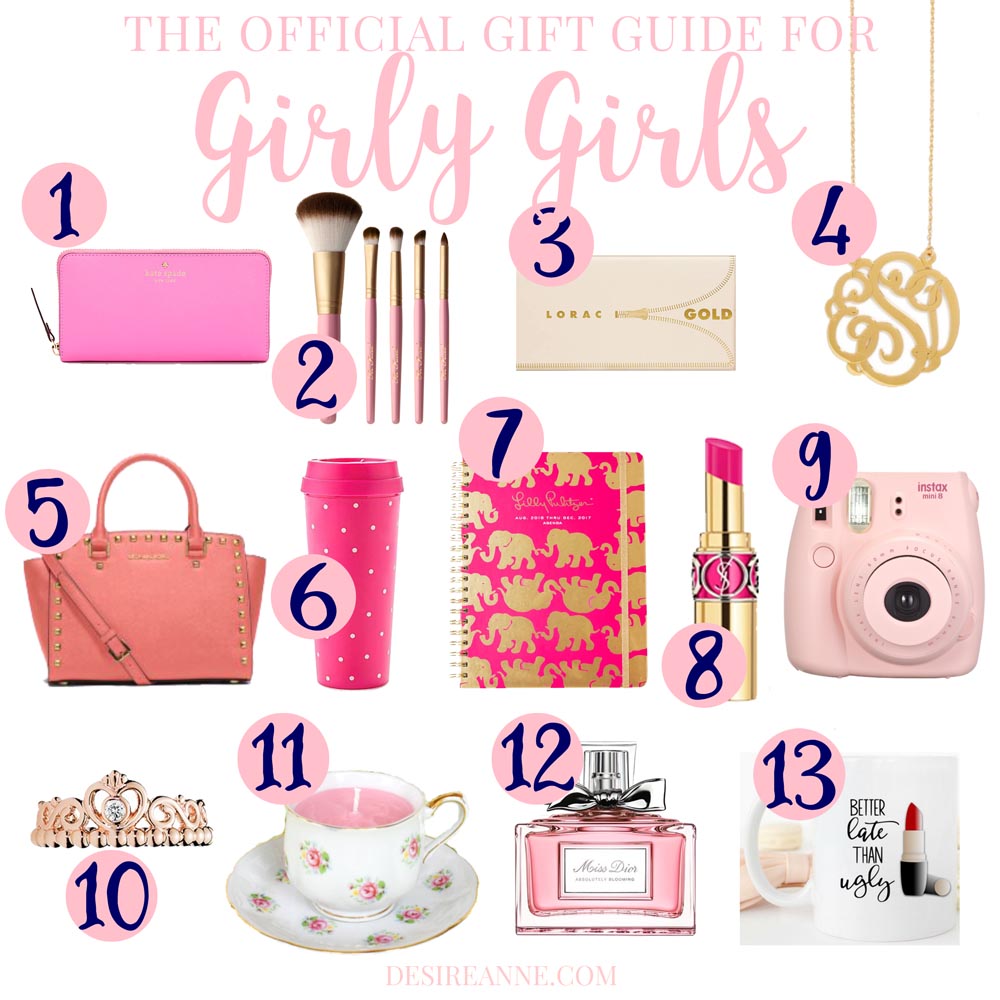 Price shown are what their websites listed on Nov. 23rd, 2016
1. "Cedar street Lacey" Wallet in Rogue Pink by Kate Spade
2. "Pro-Essential Teddy Bear Hair Brush Set" by Too Faced
3. "UNZIPPED GOLD Eye Shadow Palette W/ Mini Behind The Scenes Eye Primer" by Lorac
$42 ("$200 value")
Image Source/Store Link
4. "Ribbon Letter Monogram" by Bauble Bar in 16″ or 18″
$140
Available in 16″ or 18″ in sterling silver, white gold, rose gold, and more.
Image Source/Store Link
5. "Selma Medium Studded Saffiano Leather Satchel" by Michael Kors in Pink Grapefruit
$229.60 (was $328)
Also available in Black.
Image Source/Store Link
6. "Larabee Dot Pink Thermal Mug" by Kate Spade
7. "2016-2017 Jumbo Agenda – Tusk In Sun" by Lilly Pulitzer
8. "Rouge Volupté Shine" lipstick by Yves Saint Laurent in Fuchsia Stiletto
$37
You can also customize the tube by having them engrave it (included in price).
Image Source/Store Link
9. "Instax Mini 8 Instant Camera" by  Fujifilm in Pink
$59.99
Image Source/Store Link (Best Buy)
Also sold at Michael's, Amazon, Ebay, Target, and Walmart (in store and online).
10. "My Princess Tiara, PANDORA Rose™ & Clear CZ" ring by Pandora
11. Handmade Vintage Tea Cup Candle by Ardens Craft Room
$21
I discovered this awesome handmade shop on Instagram, and I had to include them! The shop is owned by a little  girl named Arden, and she has many other candles as well.
The tea cups and saucers are bone china. Arden's Etsy bio states, "My goal is to go to Stanford University and I'm saving my earnings to help my dream come true! I started this business because I have a passion for being creative."
Image Source/Store Link
Etsy Shop Link
Instagram
12.'Miss Dior Absolutely Blooming' Eau de Parfum by Dior
$94 (1.7 oz) | $124 (3.4 oz)
Image Source/Store Link (sold at Nordstrom)
13. "Better Late Than Ugly" custom mug by Tickle Me Pink Designs
$12.99
I found this cute shop through a Facebook group, and her mugs are so cute and sassy!
The mugs' themes range from festive to inspirational to sassy.
There are also mugs designed specially for moms, photographers, married couples, pharmacists, and coffee lovers. She was originally on Etsy, but she now hosts her shop on her own website. If you visit her homepage, she has a coupon code that's good until Nov. 30, 2o16.
Image Source/Store Link
Shop Homepage (for coupon code & other mugs)
Instagram
Other tags: Preppy Girl Gift Ideas Guide // Girly Girl Christmas Gift Guide // Gift Ideas for Ladies and Women
---
Is there anything on this gift guide that's on your wishlist? Leave a comment below!
Thanks for visiting my blog today!
 Don't forget to follow me on Instagram to keep up with my fashion, beauty videos, and more!
https://www.instagram.com/p/BPqVqMGhF9z/
---
Pin This Post: