I made Sims 4 custom content for the first time!!! This project took hours of work and learning, but it was plenty of fun. Keep scrolling for the download links and info. Watch the video to see how the CC looks in game. I'm also hosting a giveaway on Twitter!
💥Tiny Living SP Giveaway!💥
To enter:
👉🏾Sub to my channel: https://t.co/5EiSL8whsl
👉🏾Follow me. Thank you!
👉🏾Retweet this tweet.
Ends Sun. Feb 2nd @ 8 PM CST. Open internationally! More info in next tweets.#sims4 #thesims pic.twitter.com/txm24co5mQ

— Desire (Sims giveaway pinned!) 🌈 (@DesireAnne_) January 28, 2020
Disclosure: This blog contains affiliate links. As an Amazon Associate I earn from qualifying purchases.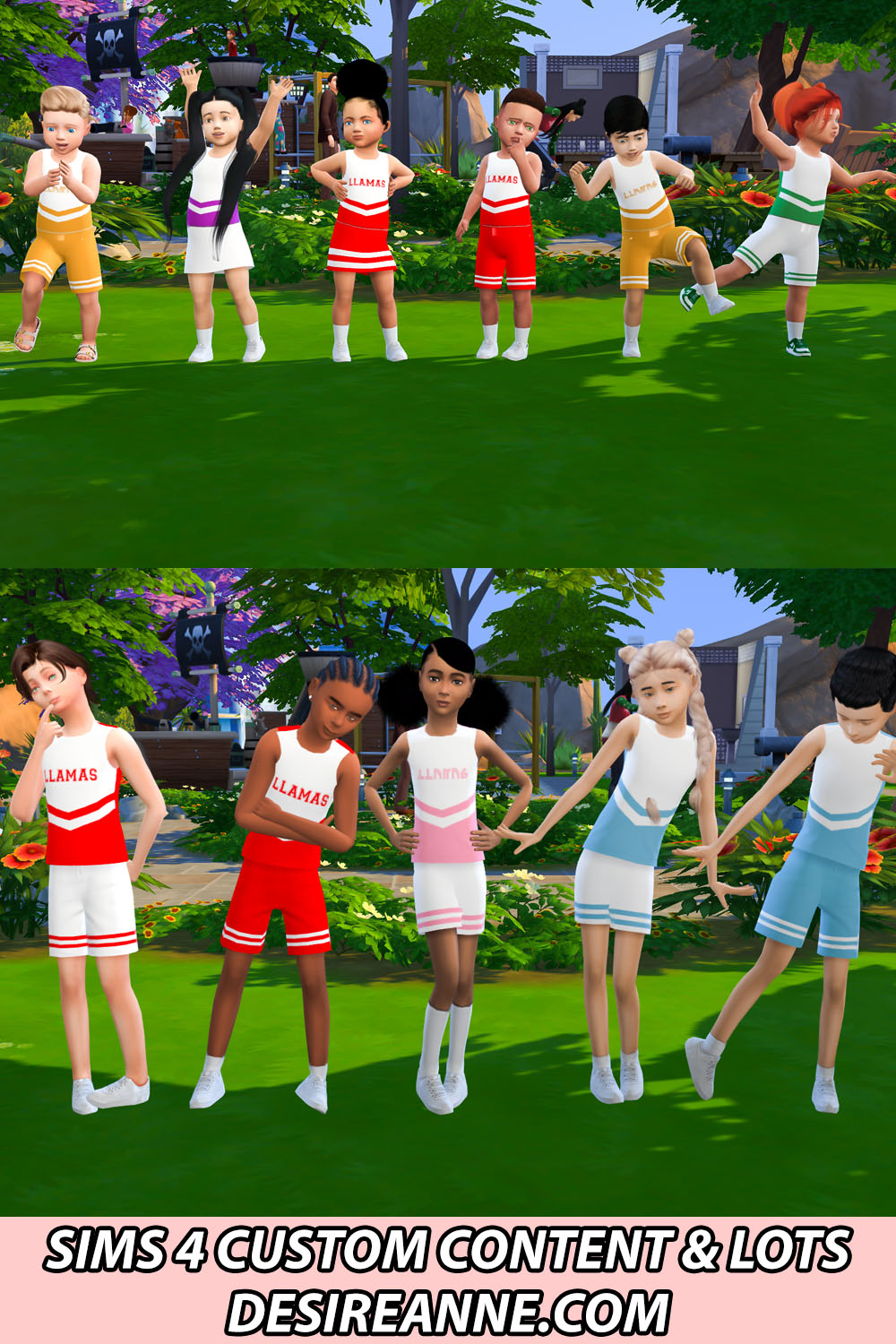 Known Issues
Toddler set has white line around waist with some swatches
Toddler shorts: belt buckle (from original shorts) is visible thru the clothes
My friend Ally tested the files in her game, and she found no other problems besides the two listed above.
If there are any other problems, just send me a DM on Twitter.
Download
Here's the color palette.
Base game compatible! Each age group has top, skirt, and shorts.
The tops have 33 swatches. 11 colors each: English version, Simlish version, and blank version.
The skirts and shorts have 23 swatches. 11 colors each: full color with two stripes; white bottom with two colored stripes; plus an all white bottom.
They have custom thumbnails, and can be found under the everyday and athletic categories.
Download is hosted here on my website. There is no adfly. Clicking the link will immediately start the download.
Toddler Only: Toddler Cheerleading Outfits CC
Child Only: Child Cheerleading Outfits CC
Toddler + Child: Child+Toddler Cheerleading Outfits CC
Terms of Use: Do not reupload as standalone file. You may include file if you make a Sim using this CC. Recolors allowed, but do not include the mesh. If you recolor, please give me credit. You may convert to other games under the condition you do not put it behind a paywall/sell. YOU MAY NOT PUT THIS CC BEHIND ANY PAYWALL.
---
Equipment (Affiliate Links):
[col_wrapper]
[col4][/col4]
[col4][/col4]
[col4][/col4]
[col4_last][/col4_last]
[/col_wrapper]
---